Discoveryland

An incredible journey through time and space
This is a timeless land imagined by great visionaries and dreamers of the past, a Disney universe of extraordinary fun! Journey to the edge of the universe on Space Mountain: Mission 2. Prepare to have your imagination challenged with the perception-bending Honey, I Shrunk the Audience, and join the intergalactic jetset aboard Star Tours.
Book a Holiday at Disneyland® Resort Paris

Get a Quote for Your Holiday
For a quote, ring our dedicated number: 01489 866932.
To visit Great Escapes for more offers and information - Click Here »
Discoveryland feature's the following:

Orbitron®
Pilot your own rocket ship and soar through a galaxy of planets and constellations.
Space Mountain: Mission 2
Blast off on an intense adventure that will take you to the edge of the universe. Minimum height 1.32m.
Star Tours
Blast off on an intergalactic journey to the Moon of Endor!
L'Astroport Services Interstellaires
Train for space exploration with high-tech games and tests. Extra charge payable.
Honey, I Shrunk the Audience
Prepare for mayhem as Professor Szalinski demonstrates his famous shrinking machine from the Imagination Institute stage.
Les Mysteres du Nautilus
Explore the infamous submarine from Jules Verne's Twenty Thousand Leagues Under the Sea.
Autopia
Test your driving skills along mini-highways in '50s-style cars. Minimum height for driving the cars 1.32m.
Disneyland Railroad – Discoveryland Station presented by McDonald's®
All aboard for Main Street, U.S.A.®, Frontierland and Fantasyland!
Arcade Alpha & Arcade Beta
- Extra charge payable.
Videopolis - Show: The Legend of The Lion King.
The legend of the great African kingdom comes to life all around you with the thrill of pulsating rhythms and an explosion of special effects.
FASTPASS®


Why wait in line when you can use FASTPASS® which is a free time saving service! You simply insert your Park entrance ticket into FASTPASS® stations at participating attractions as indicated.
In return you will receive a FASTPASS® ticket indicating a return time. You can then spend your time in Disneyland® Park as you wish, and pop back at your FASTPASS® return time to board the attraction with little or no wait.
Looking for accommodation: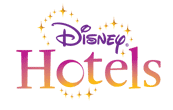 Disney® Hotels
A wide selection of hotels available
We have a wide selection of accommodation for Hotels Onsite, Hotels Near to or Hotels Next to the magic. If you plan to stay in a Hotel onsite your park ticket will be included in the price of your break. If you are staying in a Hotel near to or next to the magic ticket price information is provide. Please continue for further hotel information: