Frontierland

Where the Wild West comes to life
"Yee ha! There are thrills in them thar hills". Whether it's a pioneering adventure or spooky ghost town chills you're looking for, you'll find it all here. Stake your claim for excitement on Big Thunder Mountain and get into the ghostly spirit of Phantom Manor.
Book a Holiday at Disneyland® Resort Paris

Get a Quote for Your Holiday
For a quote, ring our dedicated number: 01489 866932.
To visit Great Escapes for more offers and information - Click Here »
Frontierland feature's the following:

Legends of the Wild West
Passage to a realm of the great American West on a self-guided walking tour. Weather permitting.
Big Thunder Mountain
Plunge, twist and turn at breathtaking speed aboard a runaway mine train! Minimum height 1.02m.
Phantom Manor
Step into this house of gloom and attempt to unravel the mystery of the ghostly bride…
Thunder Mesa Riverboat Landing
Cruise the great rivers of the Far west aboard an authentic paddle steamboat.
Rustler Roundup Shootin' Gallery
See how you compare to the best markers in the West! Extra charge payable.
Pocahontas Indian Village
The perfect playground for young Indian braves.
Critter Control
Meet farm animals in the setting of the late-1800's ranch.
Disneyland Railroad – Frontierland Depot
All aboard for fantasyland, Discoveryland and Main Street U.S.A®!
FASTPASS®


Why wait in line when you can use FASTPASS® which is a free time saving service! You simply insert your Park entrance ticket into FASTPASS® stations at participating attractions as indicated.
In return you will receive a FASTPASS® ticket indicating a return time. You can then spend your time in Disneyland® Park as you wish, and pop back at your FASTPASS® return time to board the attraction with little or no wait.
Looking for accommodation: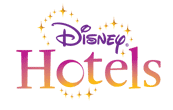 Disney® Hotels
A wide selection of hotels available
We have a wide selection of accommodation for Hotels Onsite, Hotels Near to or Hotels Next to the magic. If you plan to stay in a Hotel onsite your park ticket will be included in the price of your break. If you are staying in a Hotel near to or next to the magic ticket price information is provide. Please continue for further hotel information: