Main Street U.S.A.®

Take a lively stroll through nostalgia
Step back in time to small town America at the turn of the 20th Century, where everyone wears a smile. The perfect place to meet Mickey and his friends.
Book a Holiday at Disneyland® Resort Paris

Get a Quote for Your Holiday
For a quote, ring our dedicated number: 01489 866932.
To visit Great Escapes for more offers and information - Click Here »
Main Street U.S.A.® feature's the following:

Disneyland Railroad – Main Street Station
Depart on a grand-circle tour of Disneyland® Park aboard an authentic steam train. All aboard for Frontierland, Fantasyland and Discoveryland.
Horse-Drawn Streetcars
Experience old-fashioned trolley cars pulled by superb Percheron horses. Departures at Town Square or Central Plaza.
Main Street Vehicles
Be seen in the latest invention! Rumbling engines and tooting horns announce that you have arrived.
Discovery Arcade
Rediscover the golden age of invention through scale models of some of the greatest creations.
Liberty Arcade – Statue of Liberty Tableau
Attend the New York inauguration of "Lady Liberty" and discover her history.
Dapper Dan's Hair Cuts
Treat yourself to an old-time "shave and a haircut". Extra charge payable
Looking for accommodation: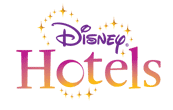 Disney® Hotels
A wide selection of hotels available
We have a wide selection of accommodation for Hotels Onsite, Hotels Near to or Hotels Next to the magic. If you plan to stay in a Hotel onsite your park ticket will be included in the price of your break. If you are staying in a Hotel near to or next to the magic ticket price information is provide. Please continue for further hotel information: